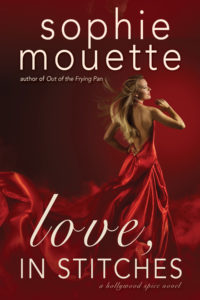 I'm delighted to announce that, after much love and toil and many phone calls, Sophie Mouette's new novel, Love, in Stitches, is finally here!
Love, in Stitches is the second book in the Hollywood Spice series, following Out of the Frying Pan. But you could conceivably read Love, in Stitches first if you really wanted to—the heroine is the best friend of the heroine in the previous book, but the events aren't linked in such a way that the order is important.
What's important is that it's here! And it has a gorgeous cover! And it's a funny and sexy romance between a fashion designer (who moonlights making pretty clothes for closet crossdressers) and a movie producer/writer who looks like a pirate.
Luanna Deveneax dreams of designing couture fashion. But when she loyally refuses to tell her employer about her side job—secretly sewing custom women's clothing for high-powered LA crossdressers—her high fashion dreams flush right down the toilet.
With his rakish grin, dark, flashing eyes, and tiny gold hoop earring, producer and writer Derek Acosta looks like a sexy pirate. He kisses Luanna's hand, making her weak in the knees…and offers her a job designing costumes for his first movie.
Far from her dream job—and you know what they say about mixing business with pleasure. But in the wild world of Hollywood, dreams come true in the most unexpected ways.
Sophie Mouette expertly weaves a seductive tale of desire, dresses, and delightful romance in Love, in Stitches, the second novel in the steamy and wacky Hollywood Spice series.
Ebook: Amazon | Barnes & Noble | Kobo | iBooks | Smashwords
Print: Amazon | Barnes & Noble
And if you haven't already, you might also want to pick up Out of the Frying Pan…
Ebook: Amazon | Barnes & Noble | Kobo | iBooks | Smashwords
Print: Amazon | Barnes & Noble | Powells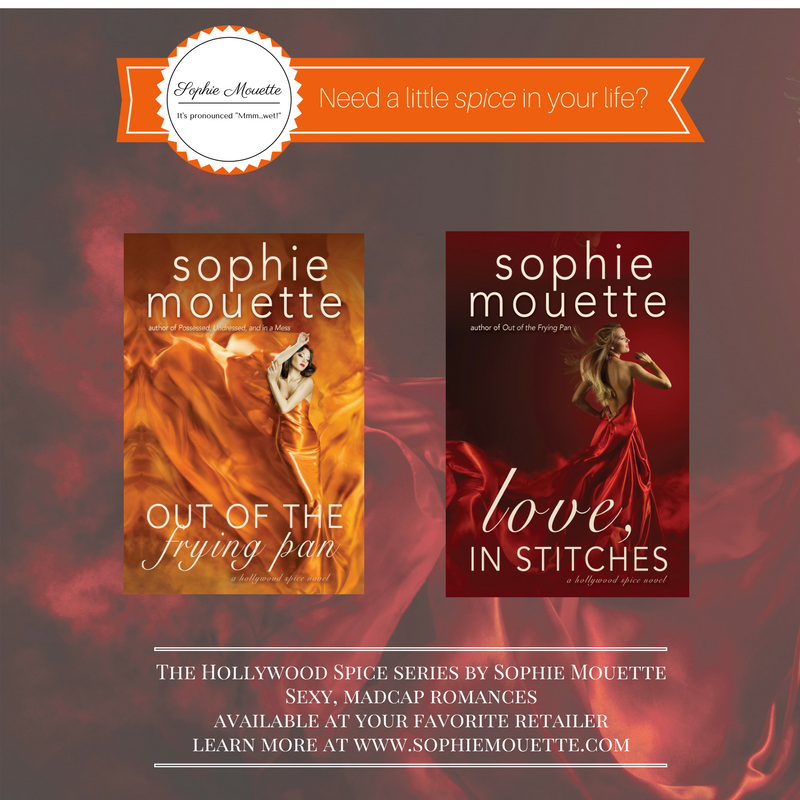 Want to chat about this post? Join me on Facebook or Twitter.