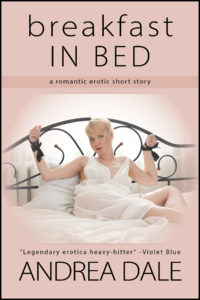 Jennie's husband, Cal, wakes her up for a naughty meal involving a bit of restraint and some creative use of strawberries and crepes. Breakfast in bed never sounded so tasty—or sexy!—in this wickedly delicious short story from legendary erotica heavy-hitter Andrea Dale.
"Breakfast in Bed" originally appeared in Afternoon Delight: Erotica for Couples (Cleis Press, 2009).
Buy it at any of these fine online retailers:
Amazon | Barnes & Noble | Kobo | Smashwords | iBooks
Want to chat about this post? Join me on Facebook or Twitter.