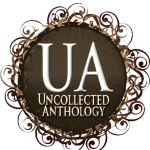 "The idea behind this anthology series is a little different…
what can't be denied is that something is working with this new method."
– Charles de Lint, Magazine of Fantasy & Science Fiction
anthology: a collection of selected literary pieces
uncollected: not collected or gathered together
oxymoron: a combination of words that have opposite or very different meanings
The Uncollected Anthology series is indeed an oxymoron. Sprung from the minds of seven fabulous authors who love fantasy, short stories, and each other's writing, the series' main goal is to bring you quarterly short fiction collections that redefine the boundaries of urban & contemporary fantasy.
Every three months, the authors pick a theme and write a short story for that theme. You can buy each story separately, or you can purchase each issue's bundle at any major ebook retailer, or you can wait until the end of each year and buy the mammoth doorstop of an annual collection. No muss, no fuss—you can buy one story, or you can buy them all. (We'll be honest: we hope you buy them all!)
Uncollected Anthology: When you can't get enough of the stories you love.
---
The incredibly fabulous authors—go check out their stories!
Annie Reed  |  Leah Cutter  |  Leslie Claire Walker  |  Kristine Kathryn Rusch  |  Michele Lang | Rebecca Senese  |  Stephanie Writt
Guest Authors
Kristine Kathryn Rusch, Heartspells (Issue 3: January 2014)
J.C. Andrijeski, Portals and Passageways (Issue 4: May 2015)
Dean Wesley Smith, Magical Libraries (Issue 5: August 2015)
Rebecca M. Senese, Enchanted Emporiums (Issue 6: November 2015)
Anthea Lawson, Happily Ever Afters (Issue 7: February 2016)
Ron Collins, Out of the Woods (Issue 8: May 2016)
Stephanie Writt, Fortune Tales (Issue 9: August 2016)
Valerie Brook, Fabulous Familiars (Issue 10: November 2016)
Bewitching Love (Issue 11: February 2017) Guest Author Lisa Silverthorne
Spells Gone Awry (Issue 12: May 2017) Guest Author Steve Mohan
Upcoming Themes

Mystical Melodies (Issue 13: August 2017) Guest Author Brigid Collins
Warlocks (Issue 14: November 2017) Robert Jeschonek
Heart's Desires (Issue 15: February 2018) Mindy Klasky
Fairy Tales (Issue 16: May 2018) Kim Mainord
Urban Western (Issue 17, August 2018) Guest Author Jamie Ferguson
Beasties (Issue 18, November 2018) Guest Author Angie Penrose
Silver Linings (Issue 19, February 2019) Guest Author Kelly Shire
Crossroads (Issue 20, May 2019) Guest Author Louisa Swann
Join Our Mailing List
Click here to join our mailing list! On a quarterly basis, you'll receive an email letting you know that we have a new issue full of urban fantasy stories available.
My Stories