I've been remiss in announcing some new publications, so here are three—two fantasy stories and one romance story—for your reading pleasure.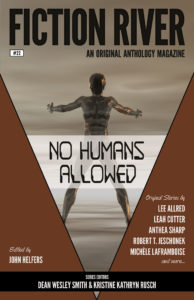 Still-Waking Sleep by Dayle A. Dermatis
literary alchemical fantasy short story
Fiction River's latest anthology contains my story "Still-Waking Sleep," which is one of the more unusual stories I've written. The editor of the volume said I created a new subgenre: literary alchchemical fantasy. Okay, I'll take that!
Tangent Online reviewed the issue and said of "Still-Waking Sleep,"
"Dermatis has a love of lush language…that fits well into the story."
(I recommend you read the issue before you read the review, because it contains some minor spoilers.)
Here's what the issue is all about:
Humans prove great fodder for fiction. But what about the universe of possibilities offered by the nonhuman protagonist? The eighteen daring humans of Fiction River's latest volume explore just that. From a goblin who must choose whether to risk everything for love to a heroic rat adventuring at sea to sentient underpants (yes, underpants), these nonhuman tales demonstrate why Adventures Fantastic says: "If you haven't checked out Fiction River yet, you should. There's something for everyone."
Amazon | Barnes & Noble | Kobo | iBooks
and in print: Amazon | Barnes & Noble
You can also check out the book's product page here and learn more about the entire Fiction River series.
---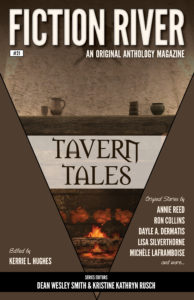 Girls That Glitter by Dayle A. Dermatis
urban fantasy short story
Fans of my Nikki Ashburne/Ghosted series, rejoice! For here is a new Nikki story. It has drag queens in it. It has a search for missing paperwork. And it's my homage and fond farewell to the Sunset Strip House of Blues.
Here's what the issue is all about:
Think you know a tavern tale when you hear one? Think again. The seventeen stories in this volume run the gamut of genre and mood. Bars filled with glitter and ghosts stand alongside taverns filled with orcs and adventurers. Exclusive members-only drinks served at the end of the universe war with coffee bars with strange employee policies in the Pacific Northwest. Dive bars, afterlife bars, gay bars—you name it, and you'll find it in Tavern Tales. So, grab a drink and get ready for one of the most entertaining Fiction River volumes yet.
I love every story in this issue.
Amazon | Barnes & Noble | Kobo | iBooks
and in print: Amazon | Barnes & Noble
The book's product page
More about the entire Fiction River series
---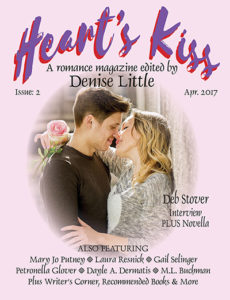 Leave a Candle Burning by Dayle A. Dermatis
romance short story
The second issue of Heart's Kiss is out now, with my story "Leave a Candle Burning." Hurrah!
About my story:
Claudia lives a vagabond life, crisscrossing the country doing research for a reality show about American myths and legends. Christmas finds her in the Adirondack Mountains of upstate New York, at a small hotel allegedly haunted by the Lady in White, who leaves a candle burning for her husband, lost in the snow.
The ghost might not be real, but Claudia's attraction to the mysterious Reese, who once lived in the Victorian house, definitely is. Will he be what it takes for Claudia to change her wandering ways?
You can buy the issue on Amazon or Barnes & Noble in ebook or print form, from Kobo in ebook, or purchase directly from the website. You can also subscribe to the magazine, which might not be a bad idea, because I have a story in issue #3 coming up, too…!
emagazine: Amazon | Barnes & Noble | Kobo
print: Amazon | Barnes & Noble
Heart's Kiss website
---
If you'd like to get this sort of information—and more!—directly in your In Box each month, you can sign up for my newsletter. The May newsletter has publication news about three additional new stories plus an upcoming novel! BONUS: you get a free short story every month! What are you waiting for? Subscribe today!
Want to chat about this post? Join me on Facebook or Twitter.