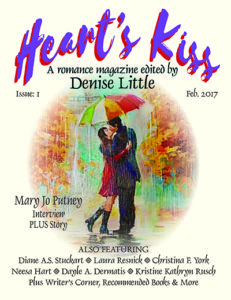 I meant to post this by Valentine's Day (the official day to post about romance, even though romance readers are the most voracious of any genre and devour romances all year long, hurrah! And I am one of them.), but our home Internet went out, and Life. (Don't talk to me about Life.)
I am thrilled to be in the inaugural issue of the brand new Heart's Kiss, a magazine devoted to short romance. It's edited by Denise Little, one of the top editors working today. She had her own imprint at Kensington, was the executive editor for Tekno Books (during which time she edited approximately a bazillion anthologies for Daw Books), and worked as a national buyer for Barnes & Noble). She's also one of the funniest people I know.
But I'm here to tell you about Heart's Kiss. The first issue has an interview with and a story by Mary Jo Putney, and more fiction from Kristine Kathryn Rusch, Christina F. York, Laura Resnick, Diane A.S. Stuckart, Petronella Glover, Casey Chapel, and Neesa Hart, plus some nonfiction as well.
You can get it for your Kindle or buy the hard copy, and even better, you can subscribe and never miss an issue (it comes out bimonthly). (Psst, I can tell you I have a story in an upcoming issue, too. I'm not officially announcing it 'til I sign the contract, but Denise has asked for the story, so it's almost a done deal.)
My story in the first issue, "Then & Now," was inspired by true circumstances, although I changed both the decade(s) and the outcome. It's a lost love found again story, a second changes story, and it's sweet and…well, you can read it and see. I hope you like it!
Want to chat about this post? Join me on Facebook or Twitter.