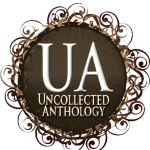 Welcome to the latest issue of Uncollected Anthology! It's our annual urban fantasy romance issue, where the magic that lurks around every corner collides with love. Our guest author, Lisa Silverthorne, has written some of my favorite stories, and I can't wait to read her contribution!
But before I get to the stories, I have to share some exciting news! Uncollected Anthology received a smashingly fantastic review from one of the founders of the Urban Fantasy genre, Charles de Lint! In the February issue of The Magazine of Fantasy & Science Fiction, he wrote, "The idea behind this anthology series is a little different…what can't be denied is that something is working with this new method."
You can read the full review here.
---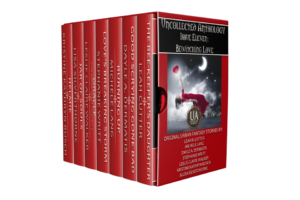 Also, you can buy all seven of the stories in one bundle for only $4.99 at any of these fine retailers! (You can still buy each story individually for $0.99 each, but this way you save almost $2.)
Amazon | Barnes & Noble | Kobo | iBooks | Bundlerabbit
---
Now, on to the stories…
"Good Scrying Gone Bad"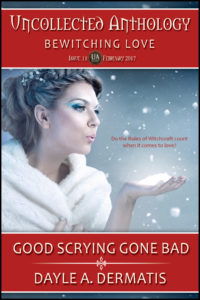 The First Rule of Witchcraft: Harm none.
The Second Rule of Witchcraft: Practice magic only when you're clear of mind.
That includes not practicing magic while drunk.
When drunken scrying goes awry, Madison connects with Brody, a cute guy trapped…somewhere. Freeing him becomes her obsession.
Does the Second Rule of Witchcraft count when it comes to love?
Buy it at any of these fine online retailers:
Amazon | Barnes & Noble | Kobo | Smashwords | iBooks
The other incredibly fabulous authors—go check out their stories!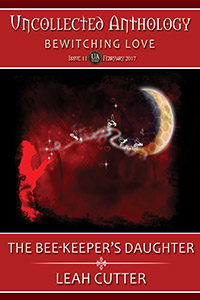 "The Bee-Keeper's Daughter," Leah Cutter
A ghostly swarm of bees haunt Elizabeth. They coat strangers in pollen while holding her still, making her watch.
Then they come for her. Sting her. Give her magical power, but at such a cost.
Why do they attack her? What do they want? And how can she make them go away?
Set in the same world as "The Midnight Gardener" and "Lost Stars."
Part of the Uncollected Anthology series, written for the theme Bewitching Love.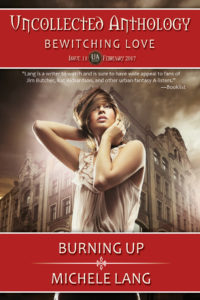 Marcy, a young Boston mage, works in a spellworkers' boiler room on the wrong side of town. Magical malware in her brain threatens both her friends and her livelihood. She has to chase down the cause, but she's running out of time.
Meanwhile, Marcy's boss, a wolf shifter up against the full moon, grapples with secret demons of his own. And a malevolent, relentless evil hungers to burn them both.
On the midnight streets of Boston, they must fight an ancient and terrible adversary. And unless they surrender to the fire, they might not make it until morning.
A story in the anthology Bewitching Love, part of the Uncollected Anthology.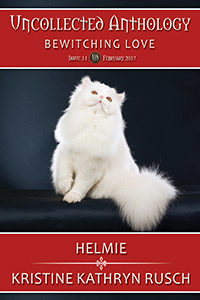 "Helmie," Kristine Kathryn Rusch
When Helmie—a pampered Persian cat worth millions—goes missing, the estate hires not one but two investigators to find him.
Kelsie uses magic to track down lost animals. But in this case, even she wonders if she can find Helmie.
Travis normally uses his investigation skills to track down people, not lost pets. And he works alone.
But when the pair find themselves on the same trail to Helmie's whereabouts, they realize finding Helmie will prove only the beginning. Rescuing him might just take more magic than any of them realize.
Part of Bewitching Love, an Uncollected Anthology.
"Rusch is a great storyteller."
—RT Book Reviews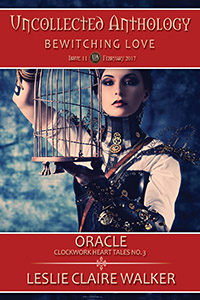 "Oracle," by Leslie Claire Walker
To save the people she loves, Erynn consented to carry within herself the soul of the cruel man who once enslaved them—Sebastian, London's criminal mastermind and soul-dealing sorcerer. Day by day, she wonders whether she will become as evil as he was—and whether her friends will be forced to kill her to keep that evil from destroying them all.
Now, Sebastian's restless soul wakes her in the darkest hours of night. He compels her to search the dungeons beneath her home to uncover a secret so explosive it may turn her against her friends.
Erynn's discovery may leave her with no choice but to trust Sebastian with the shreds of her life and her clockwork heart. She and Sebastian both understand that the consequences of such trust could be deadly.
In fact, they're counting on it.
Oracle is a standalone novella, and the third story in Leslie Claire Walker's series, The Clockwork Heart Tales.
Sorcery. Alchemy. Necromancy. Friends and enemies who have lost everything but the fire of magic that burns within.
Join Erynn's journey of courage, strength, and heart. Bewitching love awaits…
"There is a complexity to Leslie Claire Walker's stories that invites the imagination to put away the worries of the day-to-day and abandon oneself in realms as fraught with danger as they are joy."
—Phaedra Weldon, National Bestselling Author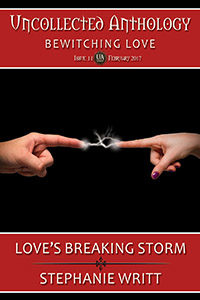 "Love's Breaking Storm," Stephanie Writt
One big-city were-cat seeks anyone to save her from her new home. A dog filled suburb. (Shudder.)
Emily's human companion believes she only lives one life: as a cat. So doesn't take Emily into consideration when she moves them across the country. Away from everything Emily has ever known. Cleaning herself on the branch of a tree one summer's day, Emily ponders the next step out of her lonely circumstance.
Enter one steaming hot guy with storms in his eyes.
Lightning, love and a hefty kitty-freak out fills Emily's story as she discovers a new place for herself and a future she never (ever) imagined.
Guest Author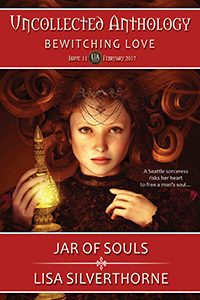 "Jar of Souls," Lisa Silverthorne
Finding an unconscious man on the steps of her magical perfume shop is just the beginning of Seattle sorceress Avery Starling's troubles. She's drawn to Braxtan Rhodes, a handsome and intriguing young man who reeks of a strange dark magic that is slowly killing him. Pushing her healing air magic to its limits, Avery puts her heart on the line to battle a powerful Fey queen for Braxtan's soul.
Want More?
We do have a website and a newsletter, for the sole purpose of telling you when the next batch of stories is available. Check them out!
Want to chat about this post? Join me on Facebook or Twitter.